Welcome to EFR Courses from Scuba.ie

Here at Scuba.ie we take health and safety seriously. Thats why we are running Emergency First Response (First Aid) courses at Provider and Instructor levels.
If you arrived at the scene of an accident or emergency would you know what to do? Emergency First Response courses give you the basic tools you need to perform CPR or first aid. Whether you're a diver or a non-diver, EFR prepares you to properly handle potentially life-threatening situations.
The topics covered in the EFR course include:
Scene Assessment
Barrier Use
Primary Assessment
Rescue Breathing
Cardiopulmonary Resuscitation (CPR)
Automated External Defibrillation (AED)
Serious bleeding management
Shock management
Spinal injury management
Injury Assessment
Illness Assessment
Bandaging
Splinting for Dislocations and Fractures
Included in the course is a participant manual, personal barriers and certification. This course is based on the protocols of the International Liason Commitee on Resuscitation (ILCOR).
This course is currently €129 and can be run over one day (8 hours) or two days (4 hours each). As well as the EFR course, we also run the EFR Care for Chrildren course.
This course is similar to the standard EFR, but it deals with incidents with Infants or Chrildren.
This course also runs over one 8 hour session, or two 4 hour sessions, and is also €129.
Emergency First Response Instructor Course:
This is the Instructor level course for EFR and Care for Chrildren with AED. This course builds on your skills as primary and secondary care provider and focuses on developing your instructional abilities. Through independent study, classroom sessions and practical teaching assignments, you learn to conduct Emergency First Response courses. It is run over two days (two 8 hour sessions) and costs €380 including the Instructor manual, but not including the Instructor Application Fee.
Prerequisites:
The Emergency First Response Instructor program is open to all who have completed the Emergency First Response Primary, Secondary and Care for Children Care Participant Courses within the past 24 months, and to medical professionals such as Physicians, Emergency Medical Technicians, Paramedics and Registered Nurses.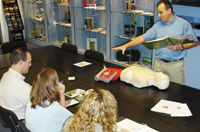 For more information, please either Email us (address has changed), or use the online form here, thanks!
Last updated: Feb 11
th
2007